Exacto and further brands: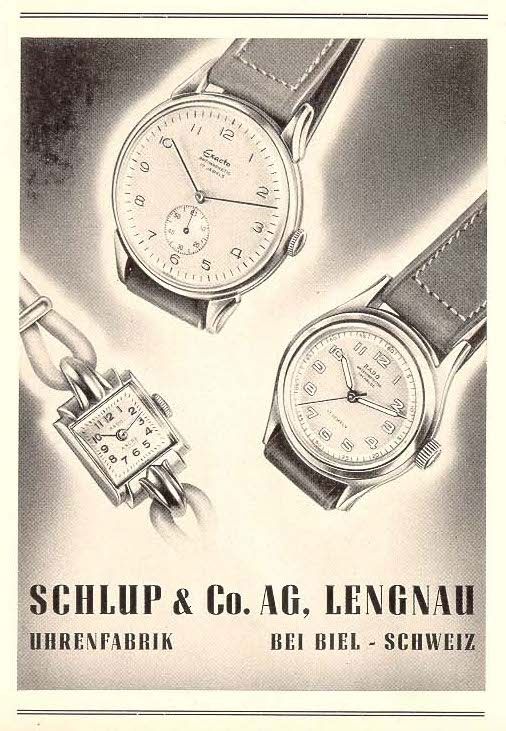 Ad from 1950 >Details Hang Tag
Ca. middle/end of the 1930s - 1957, Exacto had been another watch brand of the watch company Schlup & Co. in Lengnau, Switzerland. From ca. 1958 on, only Rado-models were offered by the Rado Watch Co., once founded in 1937 as subsidiary company in the same house. The Rado Watch Co. probably was used at first just to be able to offer complete watches before WWII, after a time Schlup & Co. had produced and offered ebauches only.
Already some time earlier or at the same time, "Exacto" was used as a second brand probably for the same purpose and min. these two brands existed side by side. Some Rado- and Exacto-models of the 1940s/early 1950s are using the same cases and movements and just have different dials and hands.
Probably, a few more brands have been used - the "Swiss Watch Directory, 42nd Edition from 1955", a "who-is-who" of the Swiss watch industry, lists under "Schlup & Co." as brandnames: Conway, Cornell, Eastermann, Eastsan, Eastson, Eastsum, Emco, Exact, Exacto, Felsser, Fiel, Gladys, Happy, Harco, Oriente, Rado, Radomatic-Toto, Toto, Totowatch and Varsity. Beside Rado, Exacto is surely the best known brand. In min. one Fareast-country, Exactos have been sold with the additional brandname "Golden Lion".
Other brands maybe have been used just as private label for special customers. Later, "Conway" became the name of a well known and often seen Rado model. I´ve seen different watches with the brandname "Cornell", they seem to be sold almost in the USA. If you should own or know a watch with another of the listed brandnames, please contact me and send me a photo.
Problems with the rights of the brandname Exacto and the success of the Rado brand then led to the result to use Rado as exclusive brand.
The problems with the rights on the brandname "Exacto" had been 1. "exacto" is the Spanish(and Galician) word for exact, so can´t be protected as a brandname in Spain and other countries with Spanish as official language, 2. "Exacto" as a brandname for watches had been already protected in the USA for the Harman Watch Co., New York. In Switzerland, the brandname "Exacto" is still today registered for the Swatch Group, the current owner of Rado.
With the end of the "Exacto" brand, the most successful models became Rado models and received new names.
Oldest Exacto I know, a wristwatch of the 1930s with an AS movement of the 612/676 family, upgraded to the for that time unusual sweep second,
as assistance to measure the pulse for medical doctors or nurses, probably for the Red Cross
My oldest Exacto, still with old logo-typing and AS 1287, beginning/middle 1940s, identical in construction with the Rado in the ad above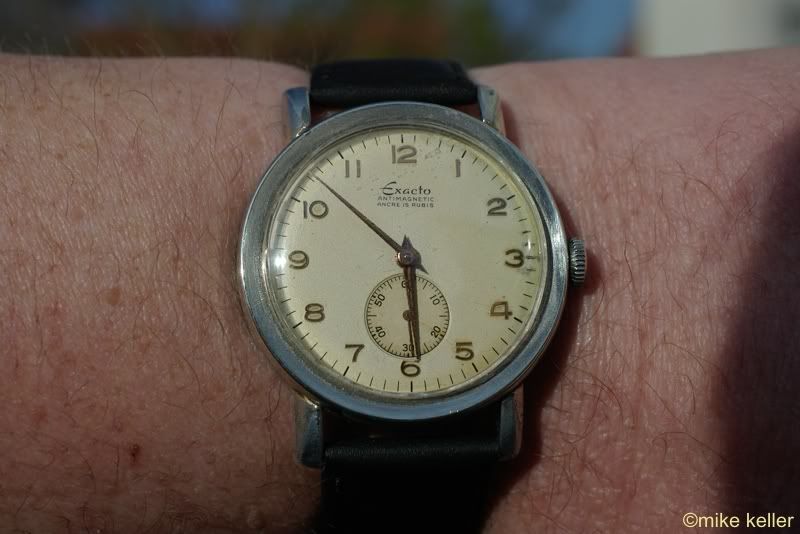 Exacto watch #8156 from 1950, with AS 1237/38 manual winded movement with 17 jewels, subsidiary second, chromed case with SS snap on caseback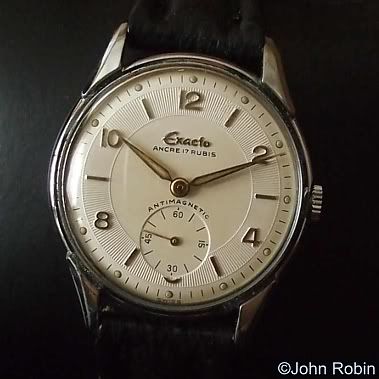 Dto, #GR 9042 with manual winded "Wehrmachtswerk" AS 1130 with 17 jewels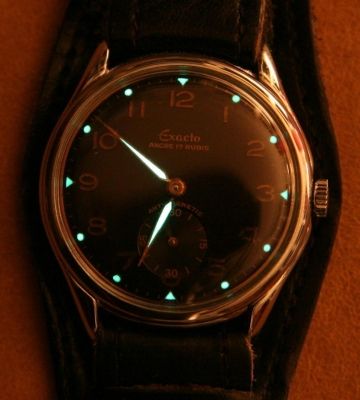 Exacto #844, dial and hands with luminous material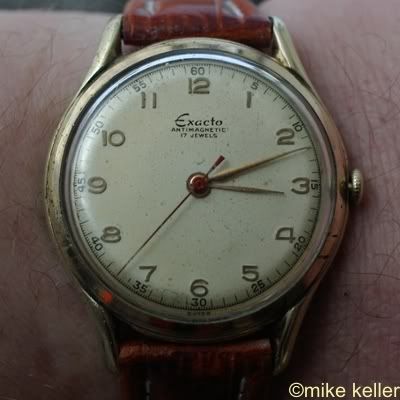 Exacto #1219 with ETA 1093, ca.1949
Exacto #GR 9003 with a 2-tone dial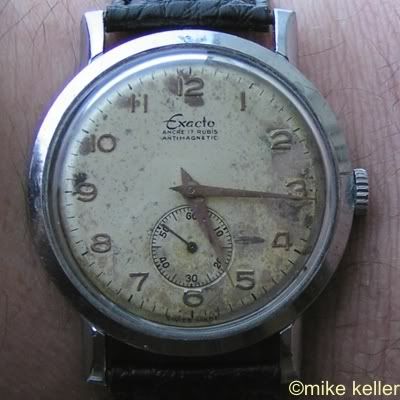 Exacto #GR 9037
Very nice gold plated dresswatch with the same movement
Exacto Oceanmaster, ca. 1956 with AS 1701 ... ... and with AS 1703 and rare original bracelet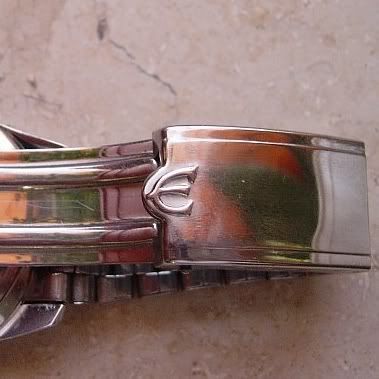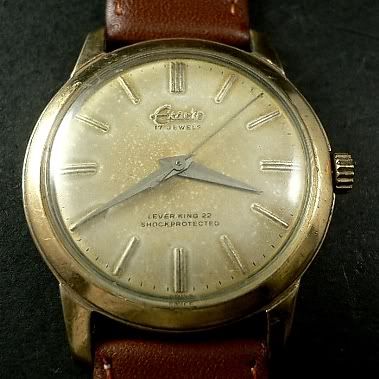 Exacto Super Automatic with ETA 2472 Exacto Lever King 22 with AS 1538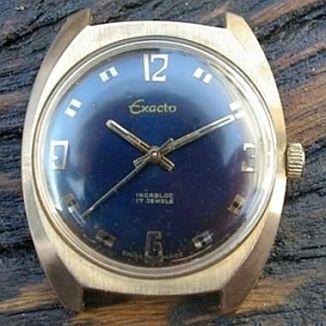 Exacto Dresswatch, ca. 1956 with ST/AS 1802 Exacto with cushion design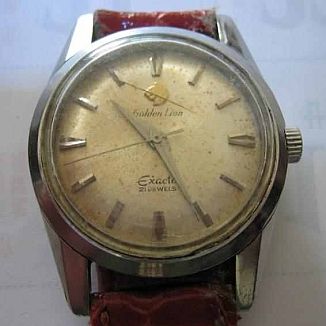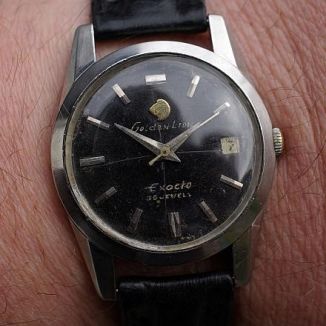 In one or more Fareast-countries, Exactos were sold with an additional "Golden Lion"-branding.
After the end of Exacto:
The Exacto Super Automatic becomes a Rado World Travel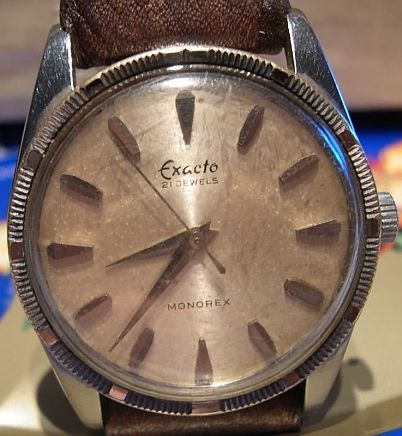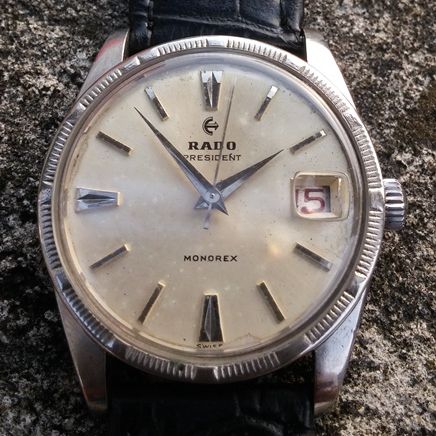 The Exacto Monorex becomes a Rado President(Monorex)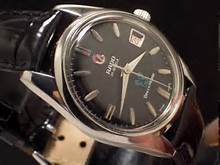 The Exacto Oceanmaster becomes a Rado Green Horse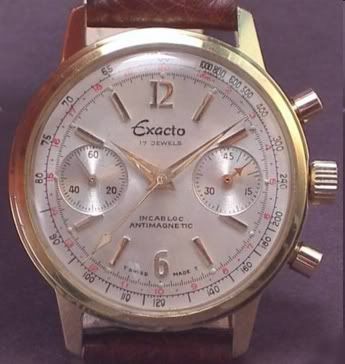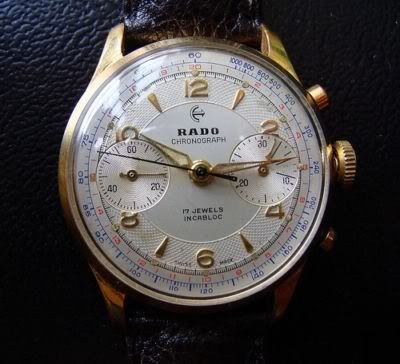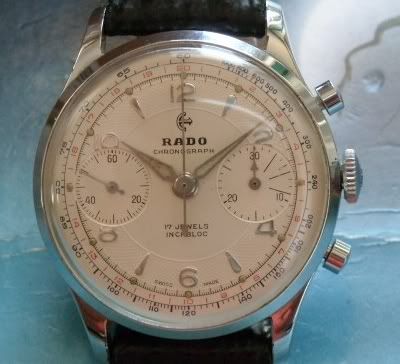 Exacto- Chronograph with Landeron 248 and two Rado-equivalents
1 = ©Ken Lum 2 = ©Scott Drew 3 = ©John