Rado - History Of A Brand

The Rado-history begins in the year 1917, the 3rd year of World War I, in the small village of Lengnau in the Swiss Kanton (=federal state) Bern with three brothers, their parents´ house and the business idea to produce ebauches for watch companies.

But first a short view to the historical background: All important inventions in watchmaking have been made in Europe. The industrial revolution of watchmaking indeed started in the USA. Because of the high demand for quality watches, American engeneers and watchmakers began around 1850 to rationalise and mechanise the production of movements and watch parts, because nearly all those parts had been manufactured at that time.. In 1852, in Waltham (near Boston, Massachusetts), the first industrial watch factory, later being called Waltham like the village, opened - the beginning of the industrial production of watches and movements.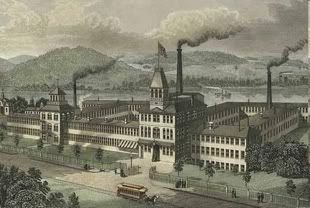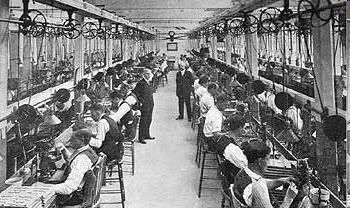 Pictures: Waltham, factory and production, ca. 1875
More than 20 years later, in 1876, two watchmakers of the Swiss manufacturer Longines visited the World´s Fair in Philadelphia and some watch factories in the USA and came back with a report of 60 pages, full of technical scetches and descriptions about the replacement of man power by machinery. So the industrialisation of watchmaking came to Switzerland.

Back to Lengnau: In the middle of the19th century, nearly all inhabitants there lived from agriculture. At the end of 19th century, watch-industry began to establish in the neghbourhood-villages Biel and Grenchen and more and more people from Lengnau began to work there to better up their small income. In 1902, Lengnau got electricity and so the village became interesting as location for the watch-industry. The first factory opened still in the same year, followed by the watch company Maire Ernest et fils in1906, a mechanical workshop of Franz Gygi in 1908, the watch company Astor of Fritz Maire in 1911 and Enicar in 1914(moved). In 1917, the watch companies Eloga-Watches and Heloisa SA were founded.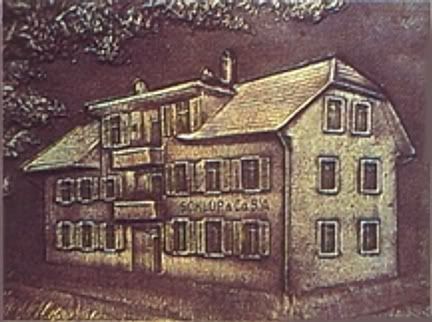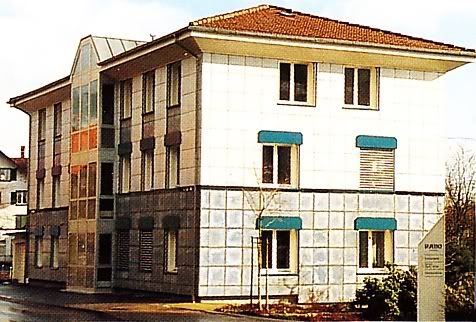 Pictures: Schlup & Co. SA, Parent House Bielstraße Lengnau ca. 1917 and after modification and renovation in 1992
And in 1917, the three brothers Fritz, Ernst and Werner Schlup opened their ebauche factory Schlup & Co. in the house of their parents in the Bielstraße 41 in Lengnau. Probably they had learnt the profession of a watchmaker before in those factories in Lengnau, Biel or Grenchen. The legal form of the company (& Co. = Compagnon/=co-partner) leads to the assumption that they needed credit capital to buy the tools and machinery to be able to start. So the business idea had been to supply the watch companies in the neighbourhood or a part of it with ebauches, probably not signed or signed with the marks of the factories they delivered to. And maybe one of their customers of the first hour had been the co-partner.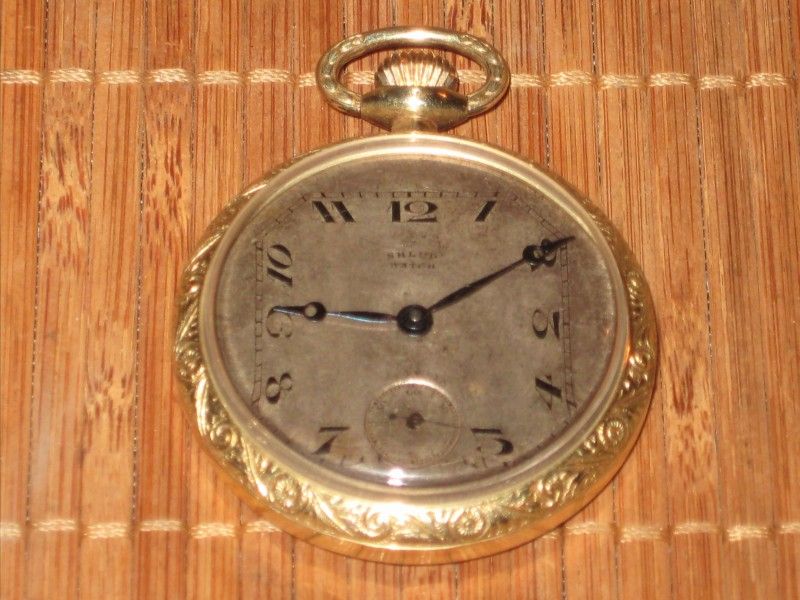 Pictures: Art Deco-pocketwatch "Shlup Watch", beyond: movement, Ø 39.8mm = 17.75''', signed with "21 Jewels 3 Adj(ustments)" and "Schlup W(atch) Co(mpany) Swiss",
a nicely finished movement of high quality with a swan-neck-regulation and jewels in gold chatons, watch from USA, 1920s
There´s only a very few information about Schlup & Co.SA, as far as I know they and their movements don´t appear on any of the known company-, caliber- or spare-part lists. There´s just one pocket-watch-movement I know, which is signed with "Schlup W. Co.", the one on the pic above.So they seem to have went on producing ebauches almost "undercover" in the 1920s, 1930s for watch-producers assembling them in own or supplied cases and selling the finished watches under their own name. One of the very few information being available is that they delivered ebauches to North America to be cased by American watch companies and/or jewellers. Both the pocketwatch-movement as well as the second Schlup-signed movement I know, a small movement from a ladies´ Art Deco-watch, seem to confirm that - both are from the USA.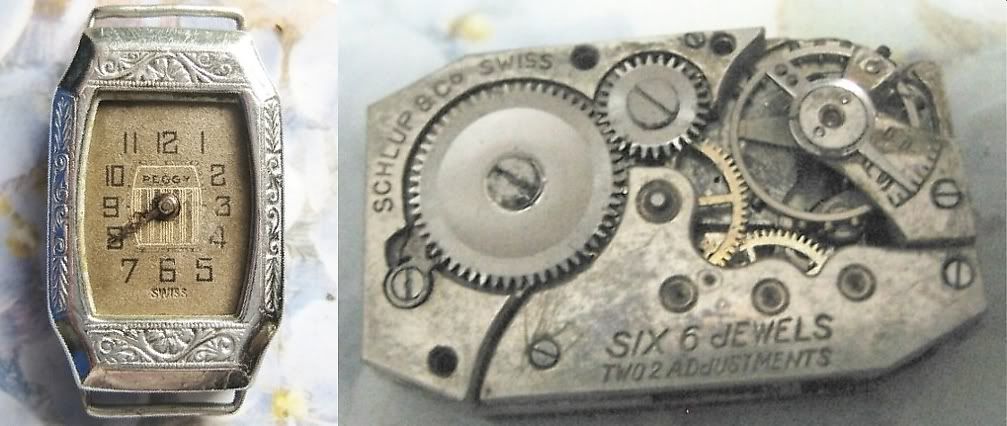 Pictures: Art Deco ladies´ watch branded with Peggy, Swiss: Movement ? x ? mm = ? x ?''', signed with "6 Jewels 2 Adjustments" and "Schlup & Co(mpagnon) Swiss", movement of higher quality, watch from USA, 1920s, Case signed with "LIBERTY W(atch)C(ase)CO(mpany), BESTWHITE-SERIES, ROLLED PLAT"
Selling ebauches/movements to North America seems to have been a very clever business policy at that time, as a view to the historical background shows: ....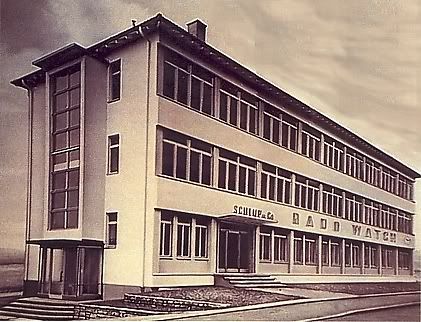 Picture: The new parent house 1948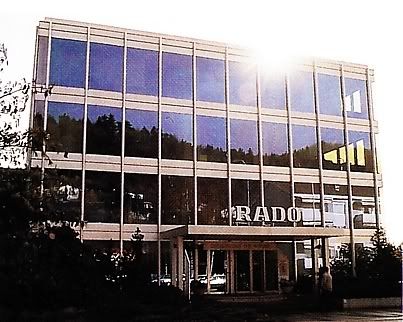 Pictures: The new headquarter 1975
... to be continued
Sources:
Internet:
> Rado Watches: Green Horses and Purple Gazelles, oh my! (by Bruce Shawkey)
> Trusted Watch/Schauplätze der Uhrengeschichte: Lengnau
> NZZ: Wie die Amerikaner den Schweizern das Uhrmachen beibrachten
> Handelsregister des Kantons Bern
Books:
Baumann, Frédéric: Allgemeine Schweizerische Uhrenindustrie AG ASUAG Darstellung ihrer Gründung und ihrer Entwicklung während 25 Jahren 1931 - 1956, Verlag: ASUAG, Druck: Graphische Anstalt Schüler AG Biel
Magazines:
Artikel "Uhren von Rado" in: Chronos, Magazin für Uhren, Innovation, Technik, Nr. 5/1993
Artikel "Rado: Design und Technik" in: Uhren Magazin, Die Zeitschrift für den Uhrenliebhaber, Nr. 4/1994